Try, try again!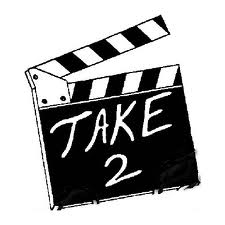 Last week I shared a 'flat out ugly' moment that I experienced while trying to make an awesome dessert, Mississippi Mud Brownies - to share with our BFF's - G and J. If you missed the 'experience' you can check it out here...
Just to prove what awesome friends G and J are, they invited us over for dinner again this past weekend...ya know, so that we could do what 'Mother Nature' (that whole South-Florida-torrential-down-pour we are so famous for) didn't allow us to do the prior weekend. ie: initiate the newly spruced up patio for the summer... 'She' (Mother Nature) almost messed us up again. However, 'She' decided to play nice at the last minute and move on outta the way before we headed over to their home for the evening. Therefore, we got to have appetizers and drinks on that patio! Yay! Also, again proving what awesome friends they are, they allowed me to bring dessert...again...even after the disaster that I brought last weekend...thereby giving me an opportunity to redeem myself from the prior week's failure. Let me tell ya, I was DETERMINED to make it right...
This time around, I used my better judgement and gathered the ingredients that I thought would create the rich, fudgy, gooey, chocolately taste I was trying to achieve last weekend.
I started with a chocolate lovers dream of a brownie mix...Thank you very much Duncan Hines ...you did not fail me...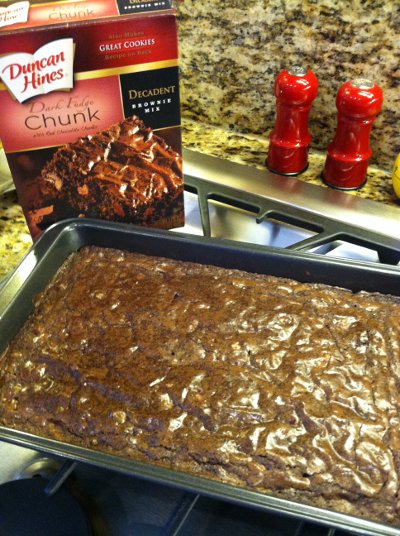 Next up, for that marshmallow gooey center that I was craving, I went for this...instead of actually melting marshmallows on top...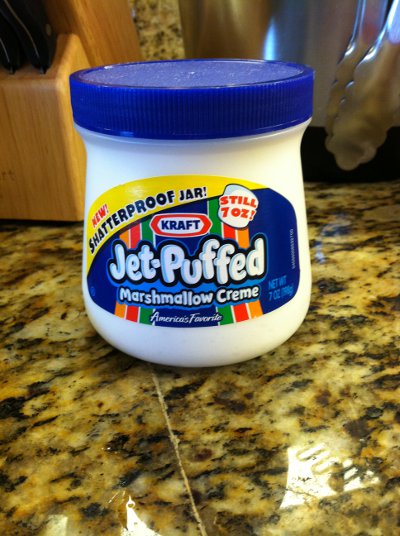 I spread the entire jar over top of my cooled brownies...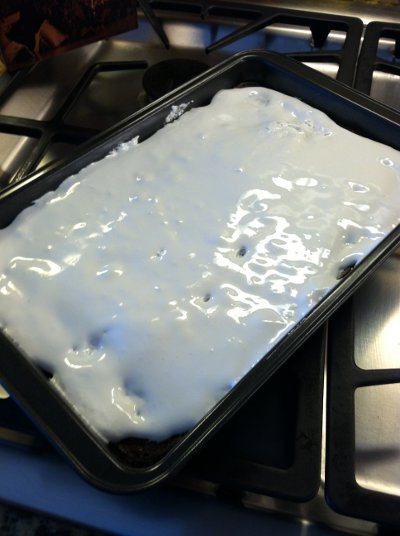 Next, I wanted to make sure my frosting was fudgey tasting and not a sugary tasting frosting, so I went with the Baker's Semi-Sweet Chocolate squares recipe that I found here...
I gathered the ingredients...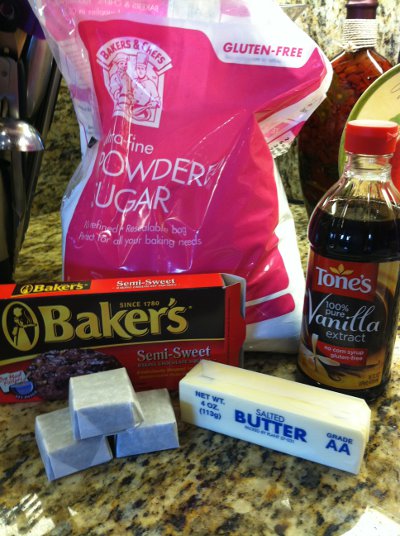 Melted the chocolate and the butter together in the microwave...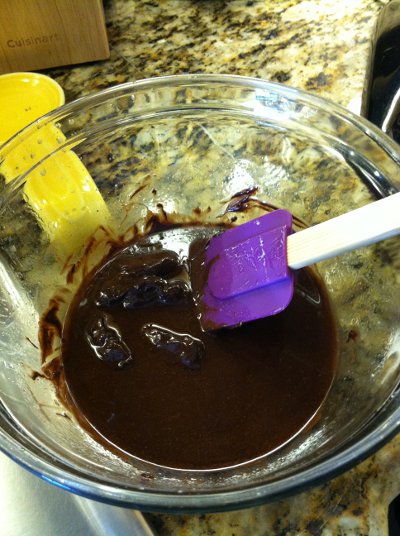 Mixed in the sugar and milk...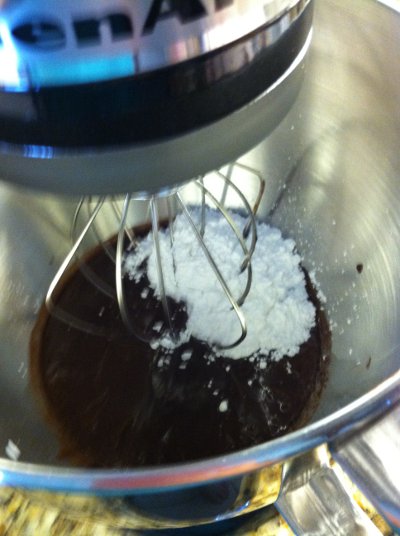 And we have frosting!!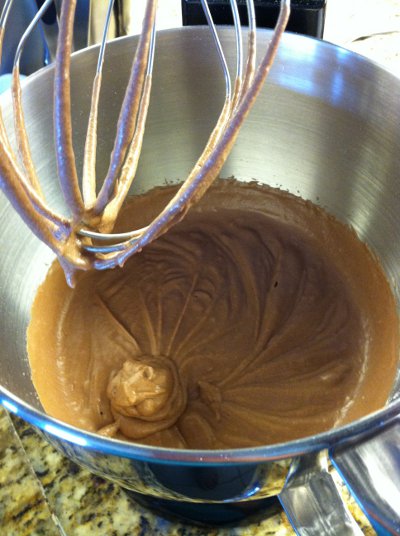 Spread that frosting all over the marshmallow fluff, added Marsmallow bits and Toffee bits for a 'bit' of decoration...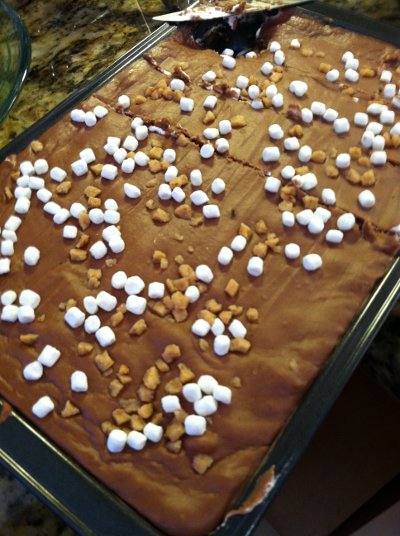 And what we ended up with was a whole lotta awesomeness!!!!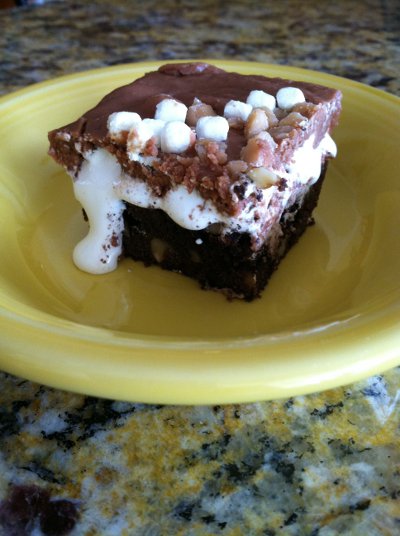 Rich, fudgy, gooey, chocolately AWESOMENESS!!!!

Here...Lemme show you again...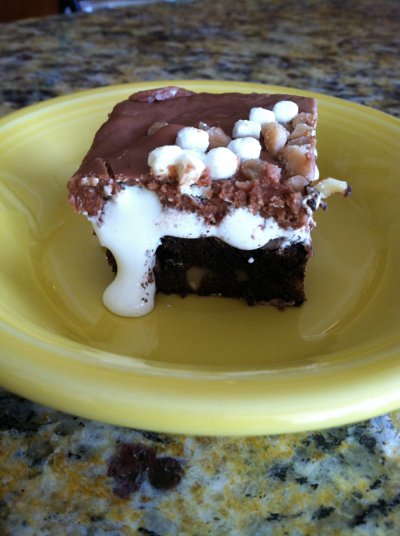 G and J put out the awesome appetizer spread they are known for, (yes, including my favorite pickle rolls!!


) and J made some awesome loaded potato bake (notice I didn't say loaded baked potatoes...there is a difference people, and I will explain in another post...), filet mignon with a homemade ginger sauce to die for, and an awesome caesar salad.
We followed all this yummy goodness with a game of Uno Attack (and, no, I didn't win...AGAIN...grrrr....), my Mississippi Mud Brownies and a Lemon-Blueberry-Pretzel Cheesecake that I also made for the occasion (which came out awesome as well, and I'll share that one later too!!)
Another great evening with G and J, and this time...a dessert (or two) to brag about! And yes, after two weekends in a row of eating like this, the 'Hubby' and I are going on a diet! Effective IMMEDIATELY
That's all I got for this one...
TTFN
♥♥♥