I shared this picture from our backyard yesterday...I mentioned to ya'll that she is featured in one of my all time favorite movies that takes place in one of my all time favorite cities...I told ya that I would share the movie and the city today...so here ya go!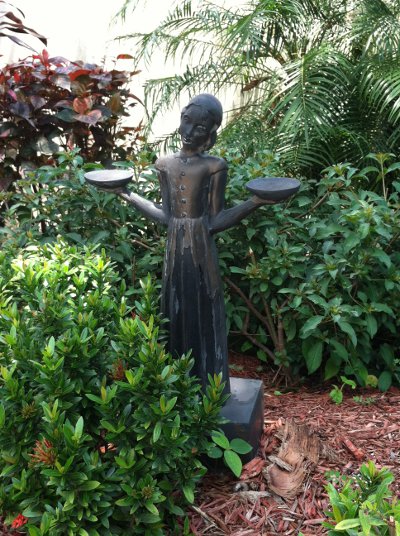 Yep,that's what she's called....and she got her claim to fame by gracing the cover of the book - Midnight in the Garden of Good and Evil...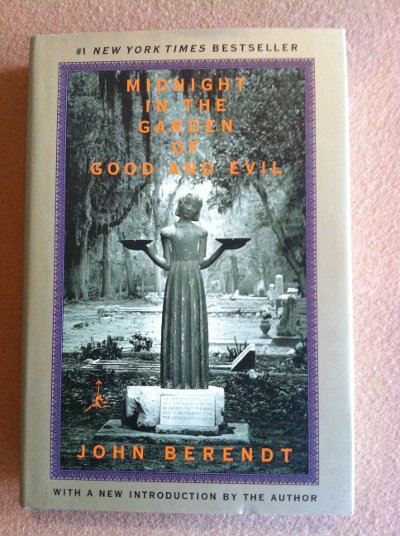 and it takes place in
Savannah
. That's one of my favorite cities.


The book was also made into a movie...Midnight in the Garden of Good and Evil...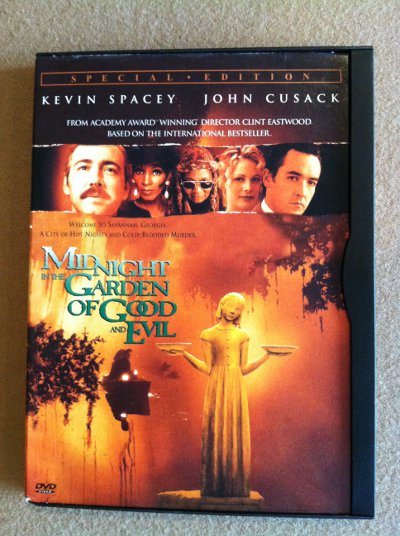 and that's one of my favorite movies!!!
She is cast in bronze and stands 50 inches tall. There were only four statues made from the original plaster cast. One is in Massachusetts, one in Washington, D.C and was later moved to Reading, Pennsylvania, one was purchased by a family in Lake Forest and the fourth one (and the most famous of the four) is located in Savannah, Georgia. It was set up in a family plot in Bonaventure Cemetery in Savannah, Georgia. It has since been moved to the Telfair Museum of Art in Savannah for public display.
A photographer from Savannah was hired by Random House to shoot an image for the cover of a book called, 'Midnight in the Garden of Good and Evil' by John Berendt. The book was published in 1994 and became a best seller. This drove lots of people to the cemetery and therefore the family decided to lend it to the museum to reduce the amount of traffic at the cemetery.
The book is a non-fiction book that reads like a novel and is based on actual events that took place in the 1980's in Savannah about a respected antique dealer, Jim Williams, and a murder that took place at his home, The Mercer House, which was built by an ancestor of songwriter and Savannah native Johnny Mercer. In 1997 a film adaptation of the book was produced by Warner Bros. and directed by Clint Eastwood.
We've visited Savannah a number of times, and we LOVE the history and mysteries of this awesome city. That's why after one of our visits we came home with our own small replica of The Bird Girl to put in our own garden and remind us of Savannah every time we see her. We've toured the Mercer House, Juliette Gordon Low Birthplace (the founder of the Girl Scouts) and numerous old homes that claim to be haunted. We took a night-time Creepy Haunted Pub tour that was outta this world, hitting all of the haunted 'pubs'...a carriage ride tour of many of the squares, including Chippewa Square and the famous bench that 'Forrest Gump' sat on as he narrated his life's story in the movie, 'Forrest Gump' while waiting for a bus. (another favorite movie...just sayin') We toured some of the most beautiful churches I've ever seen and oh my goodness there was so much more. Our favorite place to stay in Savannah is the Hamilton-Turner Inn, a bed and breakfast located on Lafayette Square. (we even have an orginal artwork of the Inn hanging in our foyer). The Inn is packed full of history itself, and you could spend hours just learning about it! Our room had a beautiful view of a gorgeous church right next door as well as the Square right in front of us.
Here are a few pictures from a some of our visits...

Our suite at the Hamilton Turner Inn....The James Oglethorpe Suite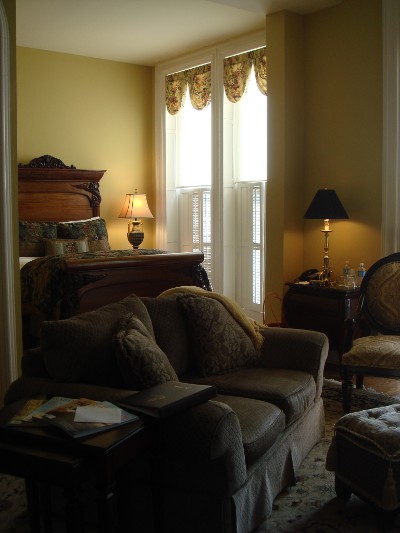 City Hall...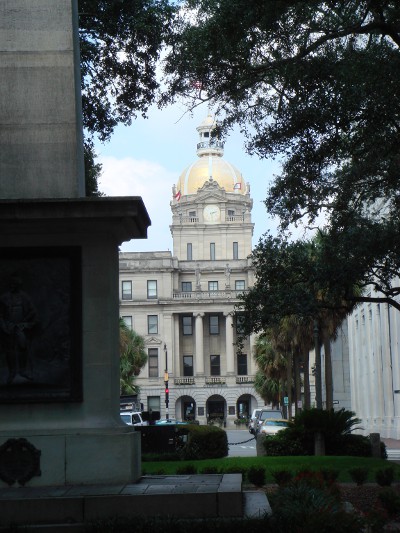 A really awesome resturant we ate at...full of artwork...700 Drayton Street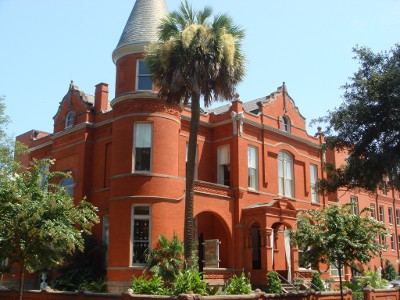 A couple of the 'squares'...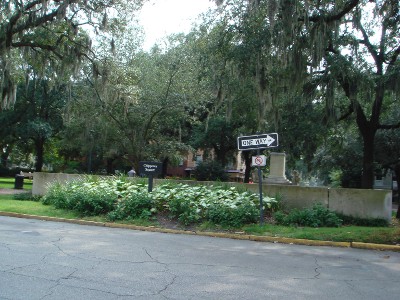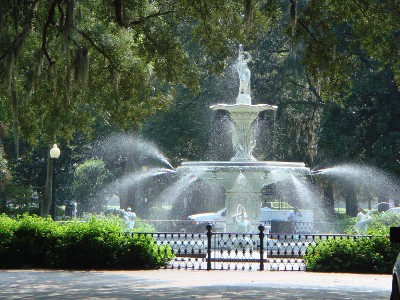 The Mercer House...(we have an original artwork of this hanging in our dining room)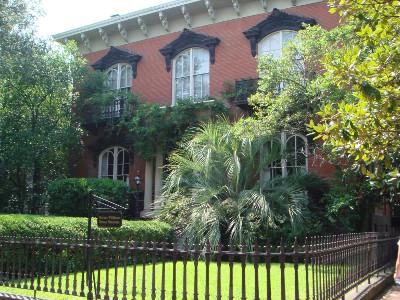 Another famous girl in Savannah...Savannah Waving Girl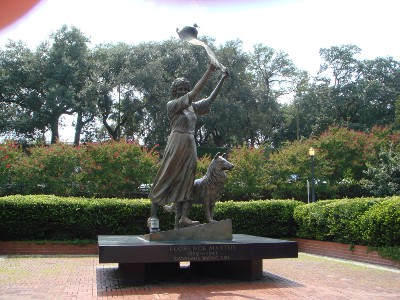 And some of the BEAUTIFUL Churches....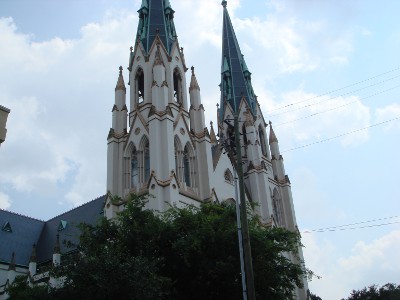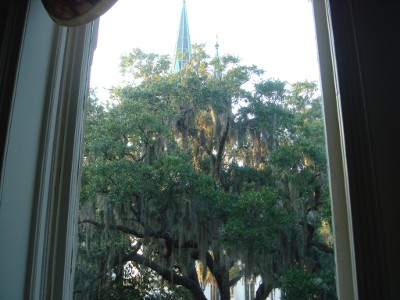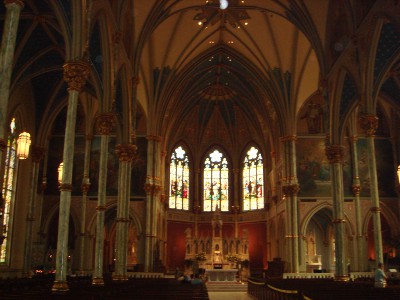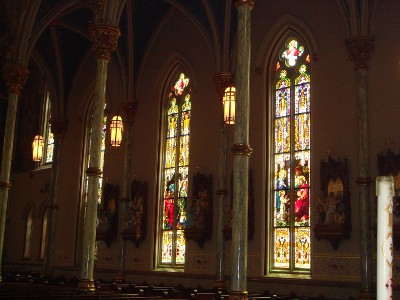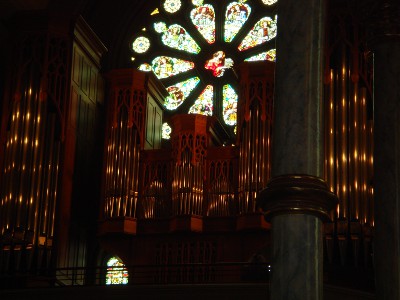 It's such an amazing city and packed so full of history!!! The Hubby and I can't wait to go back!

Whew...all that just to tell you about our little girl in the back yard....I guess I got a little carried away.

Hope you enjoyed a peek at Savannah...
♥♥♥